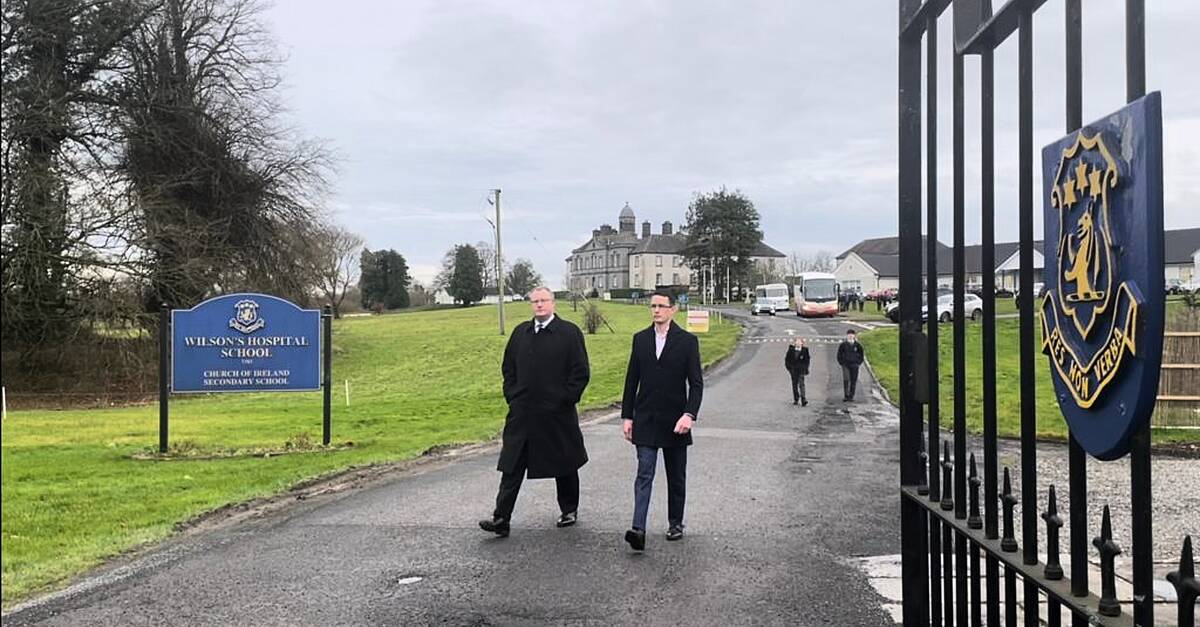 Suspended school teacher Enoch Burke spent Friday in a corridor of Wilson's Hospital School, before declaring that he was "awaiting reinstatement" to his teaching position at the Co Westmeath school.
Speaking to reporters at the gates of the school outside Multyfarnham, Mr Burke repeated his reasoning for showing up to the school despite his suspension by the school, and his defiance of a court order.
"What is happening in the school here is just preposterous," Mr Burke said. Mr Burke was speaking after showing up to work for the second day in a row.
"I came to school this morning to teach, and I was standing in the corridor for the day.
The German and history teacher spent several months in prison last year for contempt of court, after Wilson's Secondary School obtained court orders restraining him from attending or teaching at the school.
Mr Burke was later released from Mountjoy Prison on an open-ended basis. In the High Court, Mr Justice Brian O'Moore made it clear that if Mr Burke breached any existing court orders made against him, he may again be jailed.
"I've not done anything wrong," he said.
The school placed Mr Burke on paid administrative leave in September pending the outcome of disciplinary action against him. The action arose from his behaviour at a school event last year, where he publicly questioned the then principal over an earlier direction from her to teachers to address a transitioning pupil by their chosen name and using the pronoun "they".
Mr Burke has repeatedly claimed that the request to address the pupil by the "they" pronoun goes against his Christian faith, a claim he repeated on Friday at the gates of the school.
"The people of this country have a right to their religious beliefs, and I am simply awaiting reinstatement in my classroom," he concluded.
Mr Burke did not respond to further questioning.
Mr Burke left the school on foot shortly after 3:40pm, before meeting his father Sean at the school gates. After a brief consultation with his father, he made the brief statement to reporters.
Both men later left, Sean driving a Hyundai SUV.
Mr Burke was also present in the school on Thursday.
Responding to queries, An Garda Síochána said the force was aware of the incident at the school, but noted it was a civil matter.
Ireland
New record high of 11,542 people recorded as homel…
"An Garda Síochána has no role at this time.
"The role of An Garda Síochána is to ensure peace and public order is maintained, and no criminal offence is committed."
Wilson's Hospital School were contacted for comment.