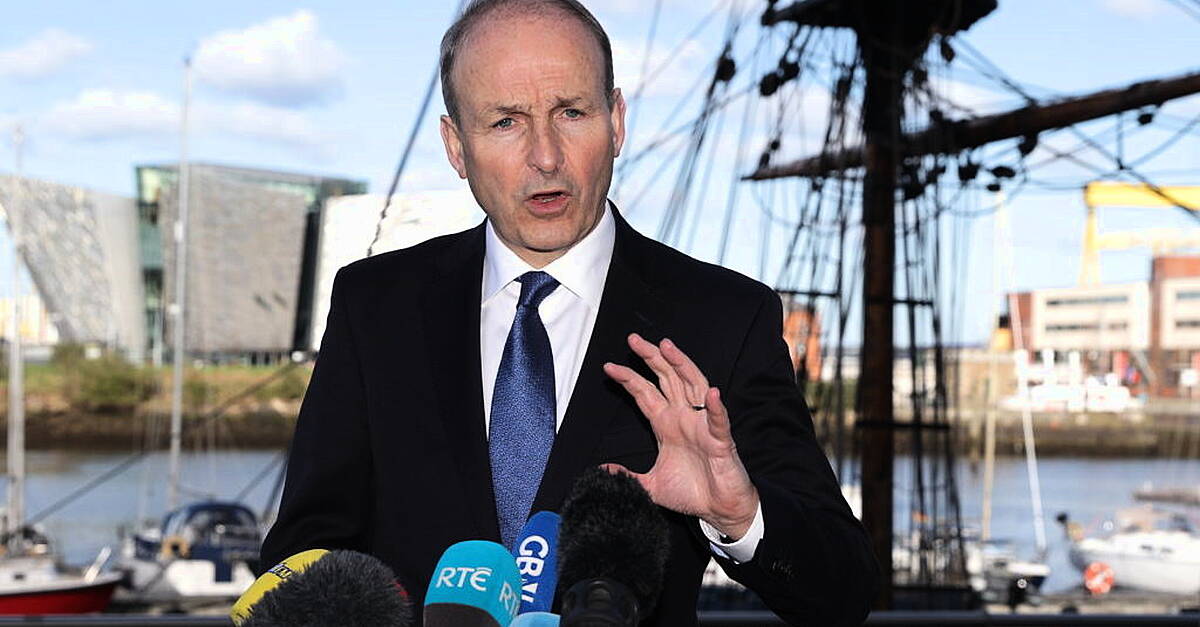 The Tánaiste has rejected suggestions that US president Joe Biden's visit represents a snubbing of Northern Ireland.
Mr Biden is taking part in various events across the island of Ireland next week, with his visit beginning in Belfast to coincide with the 25th anniversary of the Good Friday Agreement.
The US president is to arrive on Tuesday along with UK prime minister Rishi Sunak.
Mr Biden will not visit Stormont Buildings, and is to leave Northern Ireland on Wednesday.
He will also visit Dublin – during which he will address TDs and senators – as well as Co Louth and Co Mayo, where Mr Biden's ancestors hail from.
The scheduled events end on Friday in Co Mayo, where Mr Biden is expected to give an address in Ballina.
Speaking to reporters in Belfast on Thursday, Tánaiste Micheál Martin rejected the suggestion that the US president's engagements were a snubbing of Northern Ireland.
"When the president of the United States comes to any location, I don't think it can be described as that," the foreign affairs minister said.
"I think it's something to be welcomed, I think it's very positive that President Biden is coming to Northern Ireland.
"I know from my contacts with the White House, in my discussions with President Biden, he's very committed to the peace process, the Good Friday Agreement, and he's particularly focused on the potential for economic development here."
Mr Martin said the US president would be in Northern Ireland on Tuesday night and spend "the bulk of Wednesday" there.
He added: "People are envious of the commitment of President Biden to Ireland, to the entire island of Ireland.
"And I think his visit to Northern Ireland is a manifestation of his genuine commitment to the people of Northern Ireland."
Secretary of State for Northern Ireland Chris Heaton-Harris said Mr Biden's decision not to visit Stormont was not a missed opportunity.
"I genuinely don't see it as that, and I am genuinely pleased he's coming to Northern Ireland, I'd hate to think what his schedule looks like," he said.
"I'm pleased he's made the time to come here. I know he also wants to visit other things in Ireland and family, as I say, but let's make the most of his visit and make it a really positive event on the trajectory of Northern Ireland's continued peace, stability, and actually prosperity as well."
Mr Martin added that it was a "pity" that Northern Ireland's powersharing institutions were not up and running for the presidential visit, but said their restoration was important for the North's future.
He said the trip and the appointment of Joe Kennedy as a US special envoy for economic affairs are a "clear signal" that the White House is committed to economic development in Northern Ireland.
"The stars are aligning for a very significant push economically," he said.
It comes as preparations are under way for a major operation to police the events around the 25th anniversary of the Good Friday Agreement, which is to cost an estimated £7 million (€7.9 million) and see 300 police officers brought in to help staff it.
PSNI Chief Constable Simon Byrne confirmed that Mr Biden would arrive in Northern Ireland on Tuesday evening and leave on Wednesday during a briefing to the Policing Board.
"Engagements have been planned for a number of parts of the Greater Belfast area and the Prime Minister is also expected to visit Northern Ireland during this time," he said.
Assistant Chief Constable Chris Todd also said that Mr Biden and Mr Sunak would both fly into Northern Ireland on Tuesday evening.
"They will be involved in a number of events throughout the following day, Wednesday the 12th," Mr Todd told reporters in Belfast.
He said that although this was the biggest policing operation the organisation has undertaken in nearly 10 years, the aim was to keep disruption to a minimum.
"The arrival of the Prime Minister and the president… will be a significant operation of a size that we won't have seen in Northern Ireland since the G8 in 2013, and indeed elements of the operation will actually be more impactful than we saw then," Mr Todd said.
"So in terms of the number of movements of protected persons and vehicle escorts etc, it's a very significant operation."
Mr Byrne said the second phase of the policing operation will be between April 17th and 19th, when a number of politicians who were in office when the Good Friday Agreement was signed will attend further events.
He said a high-profile cyber conference was also happening in Belfast at the same time.
Mr Byrne said that around 300 officers from across the UK would be in Northern Ireland over the next two weeks to provide specialist support with the policing operation.
This includes specialist motorcycle escort officers, firearms specialists and search specialists.