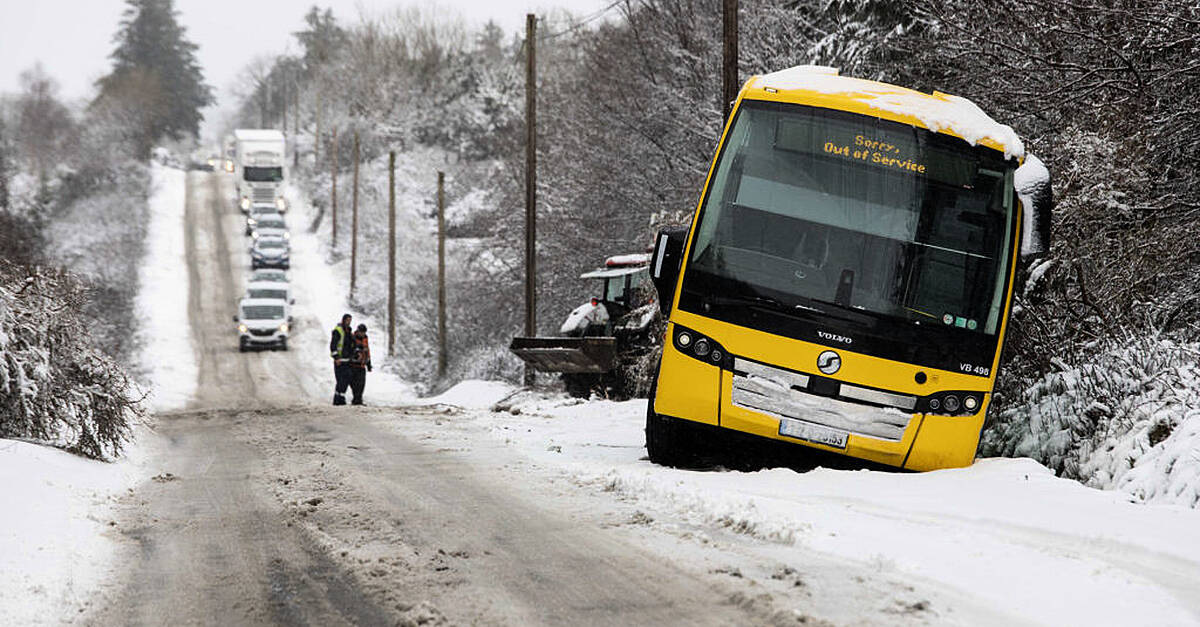 Updated 2pm
Met Éireann has issued an orange weather warning for snow and ice for a number of counties, following reports of heavy snowfall and traffic disruption in parts of the country on Thursday morning.
The warning for Cavan, Donegal, Monaghan, Clare, Longford, Meath, Westmeath and the Connacht counties is valid from 11am. It will expire at 10am on Friday.
A separate orange snow and ice warning for Carlow, Dublin, Kildare, Kilkenny, Laois, Offaly, Wexford, Wicklow, Tipperary will come into effect from 9pm on Thursday night.
Some parts of the country have seen thick snowfalls on Thursday morning, including Co Limerick and Co Clare.
⚠️Status Orange – Snow/Ice warning for Cavan, Donegal, Monaghan, Clare, Connacht, Longford, Louth, Meath, Westmeath⚠️

Possible Impacts:
● Very hazardous road conditions
● Travel disruption
● Poor Visibility

Valid : 11:00 Thursday 09/03/2023 to 10:00 Friday 10/03/2023 pic.twitter.com/sHfWpNsudl

— Met Éireann (@MetEireann) March 9, 2023
The mid-west woke up to about an inch of the white stuff, however snow showers were expected to ease as the day continued.
The weather has caused disruption to some Irish rail services and some TFI Local Link bus services have been cancelled in Limerick and Clare.
The Road Safety Authority has advised motorist not to make any unnecessary journey in light of the orange weather warning.
The Education Sub-Committee of the National Co-Ordination Group will meet on Thursday afternoon to assess the impact of the cold weather on schools.
Minister for Education Norma Foley said schools will have the autonomy to make decisions on a local basis about whether it'll be safe for students and teachers to travel for classes on Friday morning.
"It is important that they would have the autonomy to make the decision," she said.
Rescue operations
Meanwhile, several people were rescued in Co Carlow after their became trapped in a car along the Blackstairs Mountains due to snow and ice.
Carlow County Fire and Rescue Services is warning motorists to stay away from the area which is often used as a shortcut to get from Co Wexford to the neighbouring counties of Carlow and Kilkenny.
A spokesperson for the fire services said: "Bagenalstown fire crews have already been tasked to recover persons trapped in their vehicle due to snow this morning.
"The road to the Nine Stones on Mt Leinster is impassable from both Borris and Myshall sides due to the current weather conditions.
"Please do not travel to the area for any reason until further notice."
Meanwhile, parts of Carlow and Kilkenny have been experiencing snow and sleet showers which have started to accumulate in some parts especially on higher ground.
Six people were also rescued from Carrantuohil in Co Kerry overnight amid "dangerous" conditions.
Kerry Mountain Rescue Team were responding to reports that a female hillwalker had fallen in the eastern part of the MacGillycuddy's Reeks.
It then received reports that other hillwalkers were in difficulty and found six people stuck 150 metres from the bottom of a gully.
"Conditions on the hill were very poor, rending any approach to the casualties from the bottom of the gully dangerous," it said.
Rescuers climbed to a point above the trapped people and abseiled down to them.
The casualties were secured to haul lines that were used to bring them all safely to the top of the ridge.
Visibility is poor in south Co Kerry, while in the north and west Limerick roads are in a treacherous condition, with reports of trucks jack-knifing.
Rain, sleet & snow will continue to spread northeastwards to most areas this morning with poor visibility & hazardous road conditions in some parts🌧️🌨️🚗

Afternoon highs of 1 to 5 °C, but significantly milder in southern coastal areas🌡️

Minimum overnight temperatures here⬇️ pic.twitter.com/079Kt6C1Yt

— Met Éireann (@MetEireann) March 9, 2023
RTÉ reported that schools in Limerick and Clare stayed closed due to the deteriorating weather conditions.
Met Éireann spokesperson Gerry Murphy has warned of snow and sleet showers across much of the country on Thursday.
Ireland is "in the grip" of a cold snap which will last until the end of the week, he told RTÉ radio's Morning Ireland.
A band of rain which has begun moving northwards across the country has begun falling as sleet and snow as temperatures drop, he explained. The north midlands, Connacht and Ulster will experience the worst of this weather which will extend across the remainder of the country this evening with "disruptive" snow falls on the east coast tonight.
As the band crosses the country there will be improved conditions in the south-west, Mr Murphy said.
An Garda Síochána have advised motorists to continue to exercise caution while driving in the current weather conditions "as visibility and road conditions may be poor in some areas".
A status yellow low temperature warning will be in place from 9pm on Thursday night to 10am on Friday morning.
On Wednesday, Meteorologist Mr Murphy told RTÉ News at One that temperatures on Tuesday night dropped to -8.5 degrees Celsius in Castlederg, Co Tyrone, the lowest temperature recorded there since 2010. — Additional reporting David Raleigh, Anne Lucey, Vivienne Clarke, Sarah Slater, PA