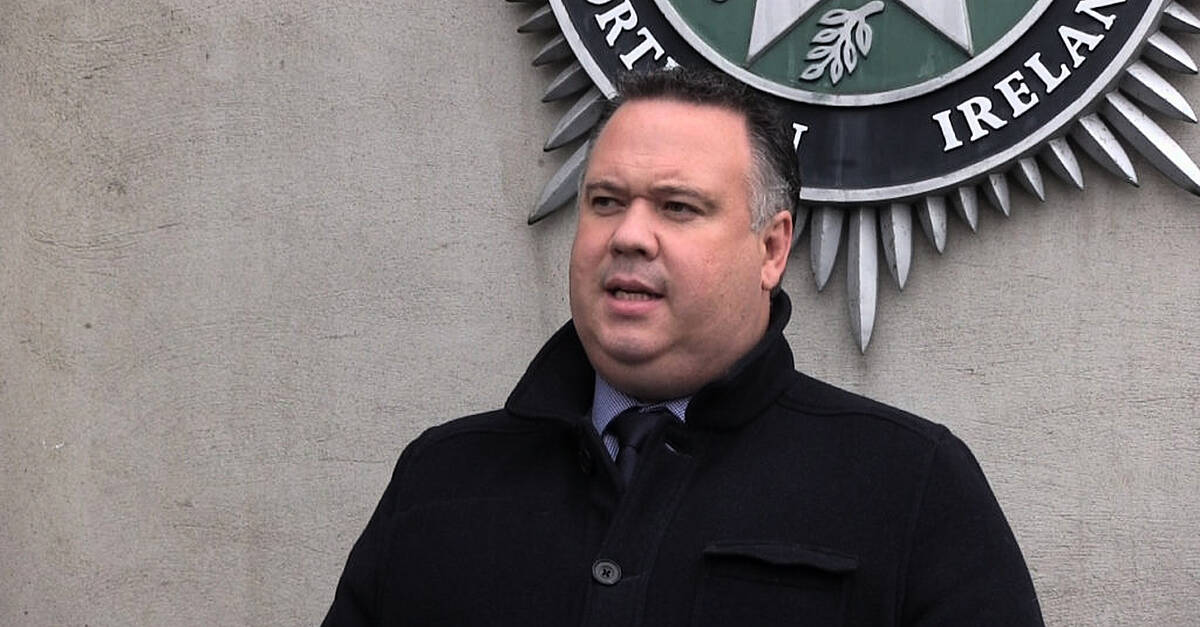 Three men have been arrested in Co Tyrone in connection with the attempted murder of Detective Chief Inspector John Caldwell, PSNI Chief Constable Simon Byrne has said.
Gunmen shot the senior police officer several times in front of his young son in a "callous attack" at a sports complex in Omagh on Wednesday evening.
Mr Caldwell ran a short distance and fell to the ground where the attackers continued to fire at him as children ran in terror to get to safety, police have said.
He remains in a critical but stable condition in hospital after the attack at the Youth Sports Centre in Omagh.
Mr Caldwell is a high-profile officer who has led a number of major investigations, including taking a leading role in the murder probe following the killing of Natalie McNally in Lurgan in December.
PSNI officers at the scene in Omagh where a serving police officer was shot at a sports complex on Wednesday evening. Photo: PA
At a press conference in Belfast, Mr Byrne said: "This morning we have arrested three men aged 38, 45, and 47 in Omagh and Coalisland in connection with John's attempted murder.
"They're currently being questioned by detectives at Musgrave serious crime suite."
The dissident republican group the New IRA are the "primary focus" of the Police Service of Northern Ireland's attempted murder probe.
Assistant Chief Constable Mark McEwan said Mr Caldwell is a "highly respected senior investigating officer".
He said while the attempted murder investigation is at an early stage, the primary focus is on violent dissident republicans and particularly the New IRA.
Mr Caldwell had been coaching a youth sports team at the facility on Wednesday evening.
Mr McEwan said that around 8pm, the policeman had been putting footballs into the boot of his car, accompanied by his young son, when two gunmen approached and both fired multiple shots.
"John has ran a short distance and he's fallen to the ground, and as he's on the ground the gunmen have continued to fire at him," he told BBC Radio Ulster.
"That shows the absolute callous nature of this attack in a crowded space where there are children and parents in the vicinity, and we saw many of those young people and children running in sheer terror to get to safety.
"At least two other vehicles have been struck, and again this highlights the callous and reckless nature of this attack."
Mr McEwan said police believe the gunmen made off in a small dark car which was later found burned out just outside Omagh.
"I would appeal for anyone with any information about those involved, about the vehicle, or anything else you think may be of use to the inquiry, no matter how small, please come forward to police," he said.
New IRA
The New IRA has been blamed for the killing of journalist Lyra McKee in Derry in 2019.
Last November, the group was also thought to be behind the attempted murder of two police officers in a bomb attack in Strabane, Co Tyrone.
Omagh has seen significant dissident violence in the past, including a Real IRA bomb attack in 1998 which killed 29 people, including a woman pregnant with twins.
It was also where Constable Ronan Kerr was murdered in April 2011.
The terrorism threat level in the North was lowered from severe to substantial for the first time in 12 years last March.
The shooting of Mr Caldwell has been condemned by politicians across Ireland and Britain.
Taoiseach Leo Varadkar condemned the "grotesque act of attempted murder".
President Michael D Higgins said: "The shooting of a police officer in front of his son is something that will be condemned by all those who believe in democracy and the peace that we all need to sustain.
"It is to be welcomed that members of all communities have expressed their revulsion at this act."
British prime minister Rishi Sunak said he was appalled by the "disgraceful shooting of an off-duty police officer in Omagh".
I am appalled by the disgraceful shooting of an off-duty police officer in Omagh tonight.

My thoughts are with the officer and his family. There is no place in our society for those who seek to harm public servants protecting communities.

— Rishi Sunak (@RishiSunak) February 22, 2023
In a joint statement, Northern Ireland's political leaders said they stand united in outright condemnation of the attack.
Sinn Féin vice president Michelle O'Neill, DUP leader Sir Jeffrey Donaldson, Alliance leader Naomi Long, UUP leader Doug Beattie and SDLP leader Colum Eastwood said they speak for the "overwhelming majority of people right across our community who are outraged and sickened by this reprehensible and callous attempted murder".
"There is absolutely no tolerance for such attacks by the enemies of our peace," they said. "Those responsible must be brought to justice.
"This will require the full co-operation of the public whom we call upon to assist police in this attempted murder investigation.
"Together we stand with John's family and his colleagues in the police service at this time."
Terrible news this evening of an off-duty police officer being shot in Kilyclogher, Omagh. This is an outrageous and shameful attack. My immediate thoughts are with the officer and his family.
I unreservedly condemn this reprehensible attempt to murder a police officer.

— Michelle O'Neill (@moneillsf) February 22, 2023
The Archbishops of Armagh, Eamon Martin and John McDowell also issued a joint statement.
"As the Catholic and Protestant Archbishops of Armagh, we are united in our condemnation of this abhorrent attack on someone serving our community," they said.
"Regardless of who they think they are, the individuals who planned and carried out this shooting represent a deep seated criminal threat to the health and peace of our society and it is important that we do everything in our power to prevent such things from ever happening again."