The rise of women in English football was epitomised for many when England's Lionesses lifted the UEFA trophy in front of a record crowd at Wembley stadium. And just like 1966, this historic moment will no doubt be fondly remembered for many years to come.
But the road to women winning in football in England has been long and winding. And the development of the women's game has been, and still is, burdened by a number of issues. Limited financial backing and lack of media support, along with lower numbers of women participating in sport than men, mean that many girls do not get the opportunity to play football professionally.
There are also questions about diversity. The vast majority of England's Euro-winning women's team were white. This is despite the fact that 20 years or so ago, Black women Hope Powell and Mary Phillip managed and captained the national team.
Give girls access
Participation is key to the development of sport from the grassroots to elite level. According to the FA, nearly 40% of girls do not have the opportunity to play football in school PE lessons. The Lionesses themselves made a plea for government action to ensure girls have the same access to football at school as boys.
School plays a vital role in sports provision during a person's formative years, and early experiences can last a lifetime. Our research with Lambeth council as part of Sport England's This Girl Can campaign revealed that girls feel that school sport is "boring", "embarrassing", "unorganised", and that boys' sport is prioritised. It makes girls feel that their participation is not important, and their enthusiasm for school sport wanes.
This is especially problematic in deprived areas where access to sport already suffers. For this reason, specific plans to improve uptake by girls and those traditionally less likely to engage with sport, such as those from UK minority backgrounds, is often needed.
Good things are happening to improve participation in diverse communities, often through collaborations between schools and community sports providers. Although school-based projects typically deliver a limited selection of sports, school sport is valuable for engaging with girls and for providing a pathway into community and club sport.
External partners from youth trusts and charities help increase girls' access to activities such as football outside of school hours and within venues in the community. And girls themselves do have an appetite for the sport. One schoolgirl told us:
Football, it like picks me up and like, all the stress about schoolwork or school goes away at the weekend, I think. I get time to go and do what I enjoy and play football. It makes me happy.
Our research, though, shows that grassroots football can be influenced by decisions made at the highest level.
Barriers to diversity
We investigated what influences young women's and girls' participation across different sports and within disadvantaged neighbourhoods of Lambeth. We looked at factors that stemmed from the individual, their family and friends, and also from organisations, society and policy.
Local sports providers told us that there can be a disparity between what is decided at top level, particularly in terms of funding, and what is needed at the grassroots. They felt that emphasis is placed on quantity – meeting short-term targets to recruit participants, for example – rather than delivering a quality experience that engages girls in the longer term. This lack of coherence from top to bottom of the sport development pathway can hinder long-term player development.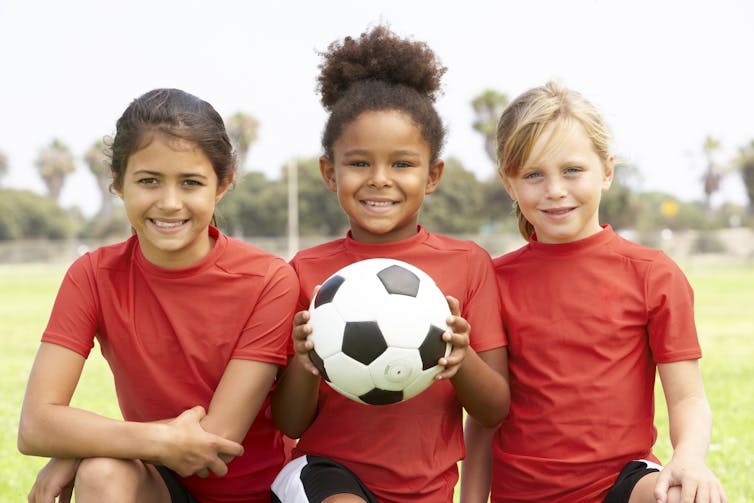 The decisions made by organisations such as national governing bodies affect an individual's behaviour and journey through sport. Indeed, the FA's actions in professionalising women's football may have been to the detriment of its diversity.
The Programme of Excellence for women's football is governed by the FA, and it licences clubs as centres of excellence. These clubs' training grounds are often located away from inner cities. Arsenal's FC's academy facility, for example, is based in Hertfordshire, while Chelsea FC are in the village of Stoke D'Abernon in Surrey.
Players from ethnic minorities and working-class backgrounds may be less able to access out-of-town training facilities and this is a major barrier to their progression within the sport and their representation at elite level, as seen with the England team.
While the legacy of the Lionesses will no doubt bolster the growth of the grassroots game, the reality does seem to be that "only some girls can". But change is underway.
To improve accessibility and create a more inclusive talent pathway, a plan for a wider national network of regional girls' Emerging Talent Centres has now been put in place. Hopefully this will allow a more diverse talent pool to be identified and supported at local level.
But it is likely that more needs to be done to ensure diversity from the grassroots and prevent similar problems arising in future.
Understanding the needs of people of different cultures and ethnic backgrounds when making decisions is important. People and communities should be consulted and representation in the boardroom is needed to give all girls the chance to play their way to the top.

The authors do not work for, consult, own shares in or receive funding from any company or organisation that would benefit from this article, and have disclosed no relevant affiliations beyond their academic appointment.