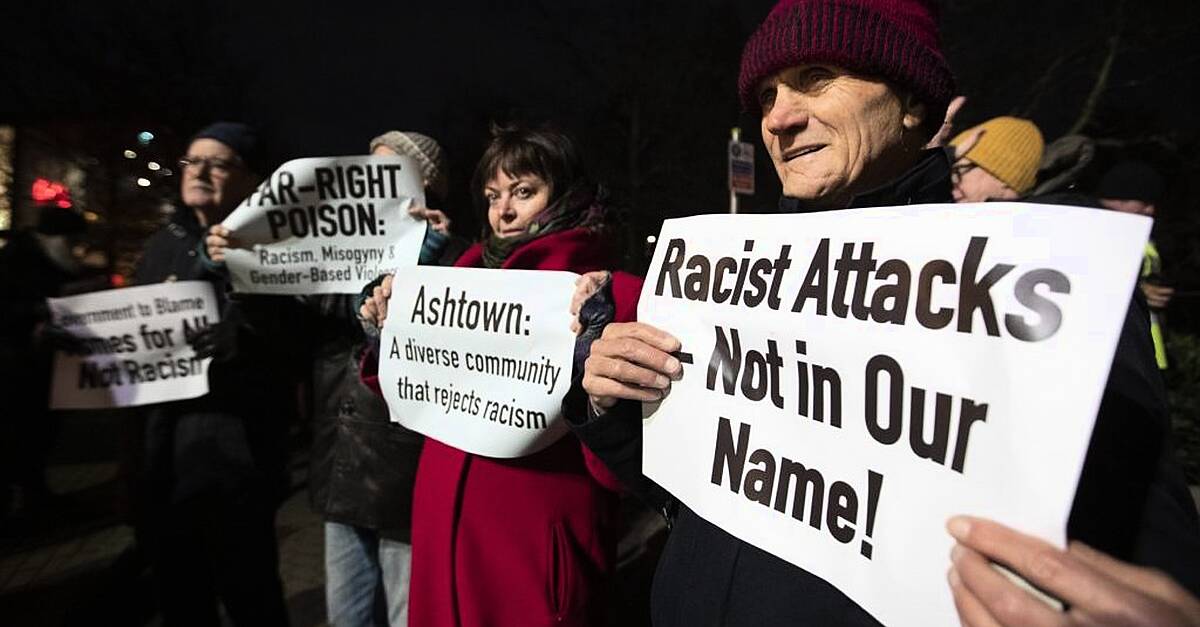 Around 150 people in west Dublin took part in a demonstration against racism on Monday night.
It comes after a group of men attacked homeless migrants living in tents in Ashtown on Saturday.
Speakers condemned the violence, urging residents to stand in solidarity with the most vulnerable members of society.
Men with dogs and weapons arrived at the camp in Ashtown on Saturday, and one person was allegedly assaulted with a baseball bat.
A group of homeless men were attacked at the Tolka river at River Road in Ashtown at the weekend, with an Irish Times journalist witnessing men with dogs and sticks arriving at the campsite.
Spokesperson for the trade union Unite Memet Uludag said communities need to stand up to violence before it spirals out of control.
Ger Hughes from Crumlin pictured this evening at a protest at Ashtown Train Station following a racist attack on a group of homeless men living in a tented village on the banks of the River Tolka over the weekend. Photo: Colin Keegan, Collins Dublin
"Let's face it, what starts with homeless migrant workers or people of colour will not stop there, and Ashtown is a clear example of that.
"I think this is about a decent society, a society inclusive of all… a society that doesn't kick down, but kicks up, a society that looks at fellow residents and says 'we are proud brothers and sisters'."
Speaking to Newstalk earlier on today, Mr Uludag said: "These people, many of them are European citizens, the attack is a horrific event and it's a warning for all of us where the hate messages and lies and conspiracy theories can go.
"This has to stop and this is not something anyone in a dignified and decent society can say is acceptable."
The Minister of State for Integration has said he is "shocked" and "disgusted" at the attack.
It comes amid some protests organised by communities in Dublin, Cork and Waterford in recent weeks against housing asylum seekers in their communities – raising objections over a lack of consultation.
River Arches pictured this evening at the protest in Ashtown. Photo: Colin Keegan, Collins Dublin
Politicians have raised concerns that members of the far-right are whipping up fear among locals about what would happen if groups of migrants are moved into an area.
"I was shocked, I was disgusted," Joe O'Brien said of the incident in Ashtown.
"It's very worrying. I've worked in the area of migrant rights for 20 years plus, I've never been more worried about the safety and security of migrants in the country than I am now," he told RTÉ radio.