Rail unions and operators have been meeting with the government to attempt to break an industrial action deadlock that, according to Network Rail, has lost the industry more than £400m in revenue since last summer.
Workers for UK rail companies have been striking for months over pay and conditions, but the resulting difficulties are impacting the future development of Britain's rail industry. It was already experiencing growing customer expectations, increased environmental challenges and a need for more capacity. But, as I wrote last year, some working practices have not kept pace with these demands making it difficult to innovate to meet these needs.
But by letting companies and workers find ways to meet changing transportation needs, Britain's railways could benefit from greater innovation without significantly increasing costs for consumers. In this sense, the government would be wise to take a new, more hands-off approach to the rail industry.
Following the COVID-19 lockdowns, travel patterns appear to have changed forever, accelerating a previously glacial shift to flexible working. And now, with emissions reduction becoming increasingly important, and the continued cost of living crisis causing people to think very carefully about how to spend their money, an effective railway system is needed more than ever. The rail industry needs to adapt to meet this need.
While the number of people travelling by train has nearly returned to pre-COVID levels, rail revenues are still down, which is compounding longer term affordability challenges for railway operators. Customers are now suffering severe disruption from strikes, but there is little sign of the kind of agreement on changes to working practices needed to resolve this issue.
The disastrous state of public finances means tough choices must be made when spending taxpayer money. The Treasury is unlikely to look favourably at rail while the challenges around updated working practices are not being addressed. This means rail projects risk being cut or completed on the cheap, while services or entire lines could be closed.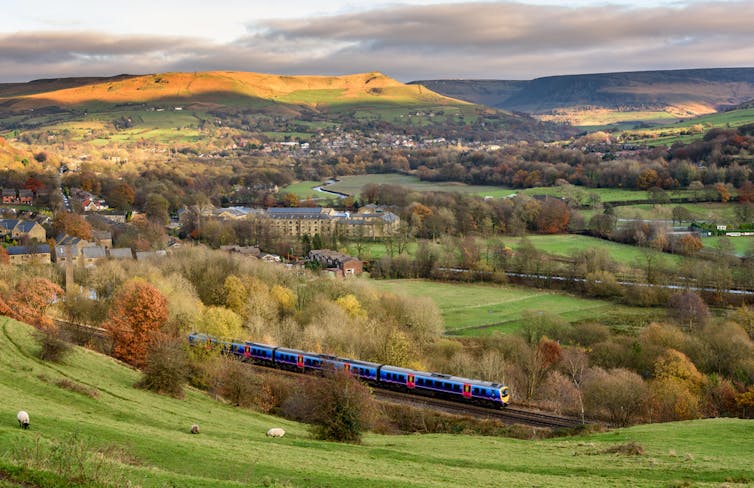 UK rail strikes: pay and conditions
So how does recent industrial action figure into the current situation? Everyone wants their pay to at least to keep up with inflation, but most rail staff are relatively well paid and other public service workers such as nurses may be seen as even more deserving.
Plus, it could be argued that taxpayer money should only be used to pay more to rail workers if there are improvements in efficiency, but unions are preventing some of this much needed change.
For example, if rail staff could be contracted to work at weekends instead of doing so as voluntary overtime, services could be properly planned and resourced for a seven-day railway without anyone being paid less or working more. Similarly, the removal of blockages to modernisation and new technology, such as drones for remote monitoring, could help improve reliability, workforce safety and efficiency without the need for compulsory redundancies.
But while the industry needs to be held to account for improvements, rail businesses need to be able to make changes to better serve customers and taxpayers. An end to strikes, combined with progress on these long-standing issues, would help restore general confidence about investing in rail. It could also enable employment of more customer-facing staff and investment in skills, hopefully making rail travel more inclusive and a better experience for everyone.
To do this, there is a need for fundamental reform of how the UK government contracts with train operators. Even before the pandemic, the government had become far too involved in the detail running of the railway including timetabling decisions.
This stifles innovation and makes it increasingly difficult for the industry to collaborate to deliver great customer experience at an affordable price. And while emergency financial measures were clearly needed to keep the railway running as a result of the pandemic, this has brought the government even further into daily management of railways.
Rail review
A sweeping review of Britain's railways launched in 2018 recommended creating a new "guiding mind" state body called Great British Railways that would sit at arm's length from government and work with the private sector. It would oversee strategy by bringing together track and train, putting customers at the heart of decision-making and owning the long-term vision for UK rail. The plan was to provide clear accountability for the whole railway and enable politicians to set objectives but step away from the detail.
The review started over four years ago and it's nearly two years since the delayed publication of its conclusions, including the proposal to create Great British Railways. So far, the team has been set up to drive these reforms and create the guiding mind that would enable the government to step away from running Britain's railways.
Some key issues identified in the review were also acknowledged by the subsequent government report such as the need for clear focus on customers, strong regional businesses focused on delivery, and the opportunity to unleash the potential for the private sector. But simplification of rail travel for customers is also needed, as well as a focus on the entirety of the industry's finances, not just cost cutting.
It would be perverse for the government to decide that it should step out of day-to-day railway operations but then go on to be very involved in the detail of designing Great British Railways. Instead its role should be to set the key objectives and the framework, and then hold this new guiding mind to account for developing the detail.
As with previous rail reforms, progress could be made quickly in shadow mode (before legislation is passed) if the government is clear about the direction of travel. Hopefully the Rishi Sunak's government will recommit to such reform and let Great British Railways get on with the detail.

Professor Paul Plummer has previously worked in the railway and receives funding for research from parts of the railway.